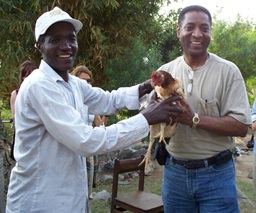 The Heifer International Study Tours Program is pleased to offer a special Study Tour to Kenya in June 2012.
Charles Stewart, long-time board chairman of Heifer, will lead this tour that will explore in-depth Heifer's approach to sustainable development in Kenya. Stewart, who has traveled extensively with Heifer, will offer his unique perspective on Heifer's approach of providing livestock and training to developing communities. The tour will be an intensive educational experience that will introduce participants to Heifer's various beneficiaries from the Maasai people, to children orphaned by AIDS and to women who are bettering their lives through a dairy goat project. These project visits facilitated by country staff will provide a better understanding and appreciation of Heifer's work and the strategy of Passing on the Gift.
The Heifer Kenya: AKA Study Tour will begin in Nairobi at the Heifer Country Office with an orientation to Heifer's work and the issues of hunger, poverty and environmental degradation. The tour will also include trips to cultural sites such as game parks before departing Nairobi to spend several days visiting communities where Heifer works.